🛒 Distribution/Resellers: We try to list Merchants/Stores and extra-regional enogastronomes who got 60 bottles ore more from us in the last three years. Traditional markets are South Tyrol, Italy, Switzerland and Germany; we are also listed in the rest of Europe and Internationally. If an Onlineshop exists the shipping countries are listed as shortcode (🇮 IT, 🇩 DE, 🇦 AT, etc.).
Visit us for Native South Tyrolean wine or Directly order wine from us for 12 or more bottles (IT, DE, AT).
Online-Wineshops based in our Territory South Tyrol
Great Online Shop choice to combine wines from different Südtirol / Alto Adige producers and terroirs in one order.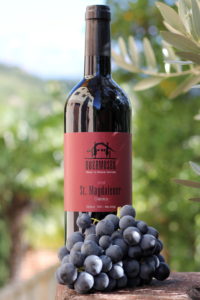 Wine-Shops and Restaurants based in Italy 🇮🇹
Parlapà, Torino, Shop Shipping (IT, Europe incl. UK, IR, FI, ES, LV, LT and World CY, AU, JP, HK, SG), fb, in, tw, vv;
Shop to combine wines from different Italian producers and terroirs in one order.
sOsteria Farteo, Vergato, Bologna
Osteria Al Cacciatore, Cesuna di Roana, Vicenza, ta
Ristorante Nuovo Nando, Brescia, fb
Osteria Robebuone, Oreno di Vimercate, Monza-Brianza, fb, in;
Ristorante Gambrinus, Gaggio Montano, Bologna, fb;
Wine-Shops based in Switzerland 🇨
Wine-Shops based in Germany 🇩🇪
Wine-Distributors based in Europe / World 🇪 🌎
Flag & Wine, Los Angeles, California, USA (CN, Italy), Page-IT, fb, in, tw;
Enotria Wine Imports, New York & Illinois, USA, Producer-page, fb, in, tw;
Wine-Shop search engines