Join us at Vinitaly in Verona from April 2-5 at Pad./Hall 6 Stand C1 and experience the unique flavors of us four exceptional winegrowers! We are passionate about crafting premium wines that embody the essence of our terroir, reflect the distinct character of our vineyards
We are committed to sustainability and quality, and our wines represent a diverse selection of sub-climates and wine types from South Tyrol. From indigenous reds like Vernatsch/Schiava and Lagrein to fine Pinots from Eppan/Appiano, and crisp whites from Eisacktal/Valle Isarco, our wines offer a pleasing complexity that goes from Mediterranean ripeness to Alpine Dolomitic freshness.
Experience our wines and learn more about our commitment to handcrafted winemaking. We look forward to sharing our passion with you!
Obermoser – Thomas Rottensteiner, St. Magdalena, Bolzano/Bozen
Stroblhof – Andreas Nicolussi-Leck, Eppan/Appiano
Taschlerhof – Peter Wachtler, Brixen/Bressanone, Eisacktal/Valle d'Isarco
Strasserhof – Hannes Baumgartner, Vahrn/Varna, Eisacktal /Valle d'Isarco
See below for a short description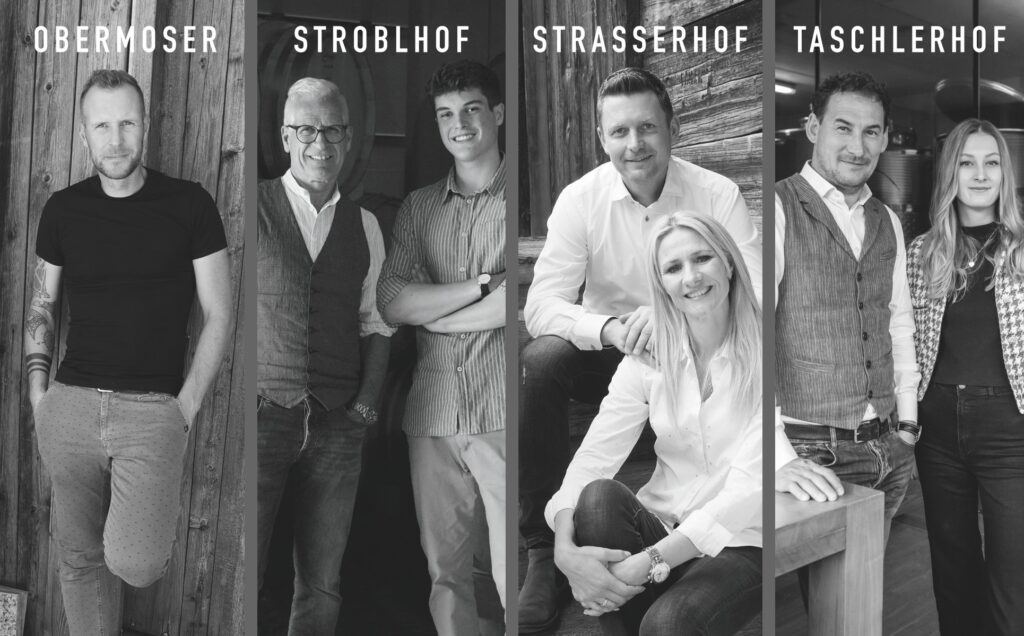 Stroblhof: renowned wine estate boasting a long history of cultivating grapes since the 12th century. Strong emphasis on sustainability with "Green Experience" certification for their eco-friendly practices.
Strasserhof: traditional vineyard located in the Northernpart of Eisacktal/Isarco valley with white wines from up to 45-year-old grapevines: from Müller Thurgau to Gewürztraminer. Strong mineral quality, great juiciness, and pleasant, youthful freshness.
Taschlerhof: Peter Wachtler focuses on making four Eisacktal/Isarco white wines with longevity, fruity bouquet, and a trace of the exotic: Sylvaner, Riesling, Kerner, and Gewürztraminer, with around 60 percent matured in large acacia barrels and around 40 percent in stainless steel tanks.